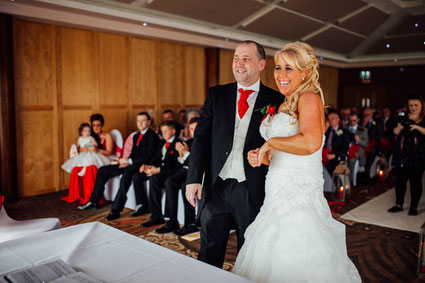 Paul and Suzanne said I do at the stunning Formby Hall Golf Club & Spa...
We were with Paul & Suzanne for a half day for their Liverpool FC themed wedding...  How gorgeous do those reds look!
Seriously though how many brides to be would let their husband has that much of an influence... the women are usually in charge aren't they... and make all the decisions even though its technically his wedding too.
Situated just off the A59 bypass the Golf club and Spa is a great location for a wedding. The ceremony room is rich and luxurious that will compliment any wedding colour scheme or theme.
The grounds are equally as spectacular and a great backdrop for traditional group shots and  creative portraits.
The day was crammed full of laughter and the guests kept us on our toes with their jibes and jokes! You'll see from the pictures that the laughter was totally infectious.
My assistant and myself covered the arrival of the bride and groom through to the speeches and you can see just how much is covered from just a half day package. Sometimes less is more if you aren't that into having your photograph taken! Coverage is always non obtrusive and we always get told we fit in like part of the family!
If you would like more information on the packages I offer for wedding photography in the North West then please use the contact page.
I cover weddings all over the North West & the UK. Travel is included within my photography packages based on a 50 mile radius of Preston . Any weddings that are further afield will attract travel costs. 
I am familiar with wedding venues in Preston, Southport & Liverpool. I also have a Wishlist of venues I would love to shoot at in the North West and these attract a discount on package prices so please check if your wedding is on my Wishlist!!