I had to take a look at myself this week business wise.
Really understand who I was and where I wanted to be within the wedding photography industry... my wedding came up. So did the choices I made for it...
I treated my wedding photography as just part of a tick list. Something that was a requirement at a wedding but not that important.
Looking back I want to bitch slap myself. Not that I didn't end up with some lovely pictures but because I didn't put the importance on the photography that I should have done.
Venue, Food, Dresses, Favours, Cake, Photographer... TICK, TICK, TICK, TICK, TICK...
That's how I planned the biggest day of my life to date. Do I regret it? A bit yeah... ok. ALOT.
I met Mr T online. Plenty of fish. Yup. That dating site you're meant to steer clear of because its full of freaks. 
We didn't have a large budget for our wedding. We had 9 months to plan it and pay for it. We were getting married on the 1 year anniversary of meeting. We couldn't have bells and whistles, we couldn't afford it.
At the time I knew Heather... She was new to photography and I'd met her not long before the wedding as she'd hired me to give her some lessons in studio lighting. She was shooting weddings, She was cheap...yep we'd have her. I booked my wedding photographer on PRICE. Because having a cheap wedding photographer meant I had more money to spend on other things!
 I told her to come and take some snaps. I didn't want to pose. I didn't want anything formal at all.
Because I didn't see the importance of not being in control of the pictures I now don't have that stunning wall worthy piece of art most married couples have to show off. I have a couple of nice pictures. Not one of them has been printed though... But she wasn't there all day. She wasn't with us long enough to capture enough real wedding moments. I thought that saving money by just having a half day was genius. More alcohol! YAY. 
BOOOOOOOOOOOO......!
We'd have more budget for our Michael Jackson impersonator. Yes we did but the sad thing is I don't have pictures of us or our wedding guests enjoying him. I'd loved to be able to see everyones faces as the surprise entertainment jumped onto stage.
BUT it was another thing ticked off my list. I was absolutely winning at this wedding planning shit. Maybe I'd missed my calling in life!
The day came. Heather was there to capture our big day and afterwards she delivered our images on a CD. Lovely. Thank you... here is your money. See ya.
Four years on... was it the right choice? HELL NO... Granted I'm not one of those brides who can write a blog about not hiring friends or cheap photographers (cheap doesn't always mean shit, just a lot of the time it does) because potentially all you will get back is blurred images stood in front of wheelie bins.
I do have some pictures I can treasure.
BUT I'm one of the lucky ones.
I booked with the eye of a photographer. You more than likely aren't.
What I should have done is not spend £1,300 on a dress that's screwed up on top of the wardrobe covered in kebab and invested in the memories.
We spent NINE months living and breathing our wedding. Everything was DIY.
Mr T made my bouquet. He spent months trawling charity shops for brooches he knew would make my eyes light up.
He glued hundreds of sparkles onto my shoes, he hand dyed the sand for the centre pieces... it went on and on.
All these things we put time and effort in to get right, All these things were important to us. Not just on the tick list.
So how would we remember all these things? Oh we'll just remember wont we... NO WE BLOODY WONT. We live in a society where we have this need to document...to document EVERY BLOODY THING. Just look at Instagram if you're struggling to understand that.
So why is documenting the biggest day of our lives not as important as that cheeky Nandos you had a week last Tuesday?
For me and not because I'm a photographer and want to take all your hard earned cash it has to be at the very top of the list. Because from experience and hind sight I know.
If I could rewind to that day I would be sat there getting ready with the photographer snapping away... the second shooter chasing my soon to be husband around a pub somewhere... I'd now have an album telling the story of the day... Id have soooo many photo's of US on THE HAPPIEST DAY of our lives.
But sat here now I just have some digital files on a CD with WEDDING scrawled on it in red sharpie.
What was important during the planning period isn't what is important now.
Its your choice to spend thousands on a dress... tens of thousands on the venue plus food and a bar but what is it that lasts? What is it that you can cherish from that day for years and years to come?
I dread to think what I'd be writing right now if I hadn't had a little bit of luck on my side when I was working down my tick list.
Regret the things you do and not the things you don't...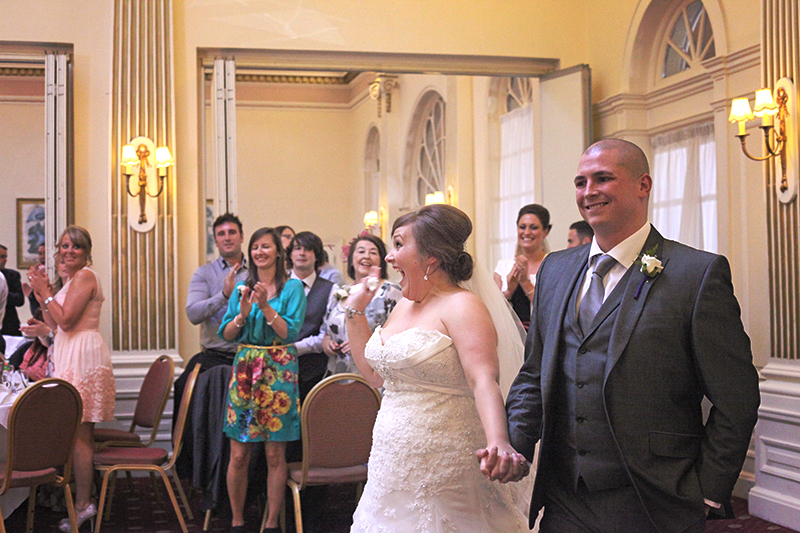 ---