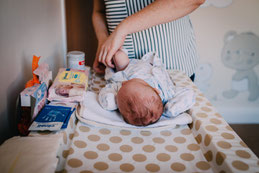 When I met Ollie with his Mum and Dad at home in Preston I just fell in love...
From birth Ollie has had to fight to be here and his little journey really shows on his face. He looks wise beyond his days which just adds to his overall cuteness factor.
There is a little pot of hair on his window sill and the bald patch on his head is still visible. All this done as life saving measures in his very early days.
Ollie AKA Mr Grumpy was a superstar at his newborn session. He didn't fight it one bit... well apart from the bit where he called him Mr grumpy and put the book in his cot for a comedy photo! Sorry Ollie. You'll laugh like we did when you're older
You can just see the adoration in Mum & Dads eyes. Ollie has literally completed these two people and to be there and capture these looks of love... what can I say? I LOVE MY JOB!