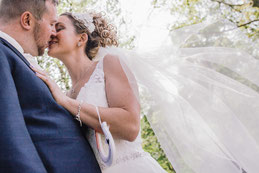 James and Rebecca were so laid back on the day... there was not one moment of bride or groom-zillaness! 
...They met and fell in love at a wedding so to be there on their big day surrounded by everyone who had seen the love grow between them from the moment they met was amazing.
Rebecca is an old school friend from Southport and was bridesmaid at another wedding I had the pleasure of photographing who was a bridesmaid at this wedding!
I only met James for the first time at their wedding consultation and liked him instantly! You'll see why when you see the pictures... Huge infectious smile!
You know when you just know you're gonna have an amazing time at the wedding if they pick you? Yeah well inside I was all like PICK ME PICK ME PICK ME.
They did and I'm so glad. I think back to the second time I visited Rebecca at home. James was on his stag do and she showed me a picture of her in THE dress... My eyes teared up... Yup... i'm that sad and probably love weddings more than considered to be normal.
Turning up at The Wrightington Hotel I got that excited feeling... A huge surge of adrenaline... Its a lovely light and airy space and as soon as a photographer see's good light they are in their element! Good light = AMAZING PICTURES! 
Shaun the events co-ordinator was a dream! If you're looking for a wedding venue in Lancashire then I strongly suggest you go and have a look for yourself.
See if you can find the picture where Rebecca see's her groom for he first time! One of my favourites!
The wedding was fun & laid back it just echoed the couple and that's what makes the perfect day. Forget all the tick lists of must have's for a wedding... make it a day about you and you cannot go wrong!
I have to say as well... Mrs Laird... You picked a good one... What man washes the dishes on HIS WEDDING DAY??? 
Hair by : G Style Hair
Makeup by: Sitting Pretty Birkdale Southport
Flowers: Jenny at Fantasy Weddings
Car: Birkdale Classics 
Brides Dress : Brides Room of Birkdale
Suits : Grooms Room
Bridesmaid Dresses : Glitz Ritz & Tiara's
Venue: The Wrightington Hotel & Country Club
Assisted by the wonderful Michelle