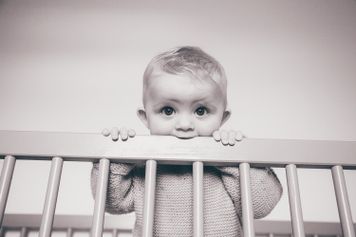 This is the second time I have had the pleasure of photographing Violet at home...
How cute is she? Seriously... Wanted to bring her home! The first time I met violet for a lifestyle session was when she was a newborn. She wasn't totally into it back then either but we ended up getting some crackers both times.
At home sessions are so relaxed and aimed at capturing you in your natural environment. Somewhere your happy emotions will show. Maybe a tear or two from the babies but for some reason they are just equally as cute as a smile at times!
At each session I spend a little bit of time getting to know you as a family and playing with the kids so that they feel at ease when I whip my camera out. 
Lifestyle sessions are about capturing what you do every day and as you'll see Violet and Mummy have a great time. Violets favourite game is peekaboo and one of my favourite pictures from the day is where she is peeking from under her blanket.
Lily the family dog got in on the action too and she worked the camera like a professional! 
If you would like your family capturing in a natural and relaxed way then get booked in for 2017. More details can be found here.
Featured on...