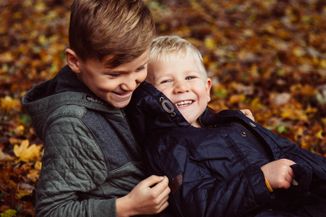 It was a dismal, wet morning but that did not dampen the boys spirits. 
I know I harp on about how much I love lifestyle photography all the time but how can I not when I get to make memories like this? Lifestyle sessions exist to capture real life events, to mark milestones and to show people as they really are. 
You can have a lifestyle session anywhere. Your home, Your favourite coffee shop or even on a campsite! It really doesn't matter as long as the photos tell a story about you. Show your personality and how you interact with others. 
Think about your future generations... will your pictures tell them anything about you? Lifestyle isn't about being sat in a studio and capturing your best side with perfect lighting. Its real, raw and honest.
Ethan and Jack got to work straight away when we arrived at Haslam Park in Preston, Lancashire. There usually isn't any direction during Lifestyle sessions but I usually start off this way as most people expect it... Expect to be told how to pose and what to do. Most shoots are a mash up of classical posed and unscripted lifestyle and this works amazingly!
After the first 5 minutes of some posed pictures the boys were relaxed and started suggesting things they wanted to do. Kick the leaves... get the dog involved...Take a picture of my ladybird! 
And its ALWAYS the un-posed pictures people want on their walls. Because that picture is telling the true story of the person within the frame. 
Towards the end of our session Jack saw a big tree stump and said 'HERE' and it was perfect! The yellow leaves as a backdrop and the boys directing the show. You can see how comfortable they are  in their faces. They really did love being in-front of the camera once they had control. 
Mum had this to say after the shoot... Over the moon with the photos Sarah took for us. With 2 young boys and a dog to try and capture, it must not have been easy. I never imagined she would have got so many amazing pictures. Thanks Sarah x
Autumn is officially my favourite season and you can see why! Nature just gives you the most amazing backdrops!
Roll on Autumn 2017 Lifestyle Sessions! Book Here