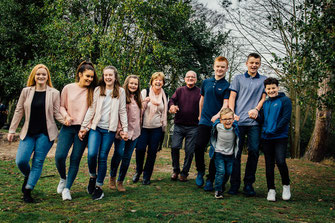 By booking and taking part in a Sarah Maria Photography portrait or lifestyle session you agree to the following Terms and Conditions; 
If inclement weather or other adverse conditions prevent the photoshoot from taking place, we will simply rearrange for another date.
I reserve the right to use one or a selection of images from your shoot for advertising, display, publication or to offer for sale via stock agencies. Any image containing a person will not be offered and will need written consent from that individual before being used. This clause is inline with a lot of top photographers in and around the North as well as the UK, it also allows me to keep my prices low - meaning you get fantastic value for your money. 
 Waiver of liability: client expressly releases the photographer, her employees and agents from all claims, damages, and liabilities that may result from accidents or incidents that occur during the photo session. This waiver of liability includes waiver of any claim that may be a result of  negligence.
I retain copyright for all images taken on any photoshoot, except for pre-agreed commercial shoots. Images are sold on a personal use license, this includes those via digital download and USB. With all digital copies of your images you are able to make gifts and prints at home, however it is not permitted to sell them, edit them or enter them in to any competitions as your own. 
I have no problem with you uploading your images to Facebook and/or personal websites, however before doing so, please let me know and I will send 'website ready images' this prevents anyone stealing them to sell on or promote themselves. Where possible you must also include the small watermark. If you cannot include the watermark (i.e. want to crop the photograph for a cover photograph or profile photograph) please include in a comment a simple copyright notice - stating that I am the photographer. So for example - Image Copyright - Sarah Maria Photography. It is against my terms and conditions that you upload any high resolution file to the internet, other than for the purposes of ordering prints etc or to make gifts for yourself. It has become increasingly easy for people to steal images (especially via social media) and sadly I have been the victim of people taking my images to pass off as their own. 
NOTICE OF COPYRIGHT: all copyright of images taken on any photoshoot remains with Sarah Maria Photography.
The Photographer reserves the right to amend these Terms and Conditions without prior notice.