I'm such a sentimental old (ish) fool and when it comes to weddings, especially the bonds I get to witness on a wedding day my heart strings are most definitely tugged.
This story nearly pulls said heart, right out of my mouth... Heather of Bespoke Bridal Creations is the lady I want to be... She is armed and dangerous with a glue gun (and copious amounts of other craft materials). Every fibre of her make up is creative... 
When I was a kid my Mum nicknamed me 'Half a Job' Because I would always get a super exciting idea... start off at a million miles an hour then just run out of steam and lose interest... Nothing like Heather... She had a super exciting idea and saw it through right to the end... Here she starts to tell us a little about the journey she went on with her daughter Emma...
...I can honestly say, that making my daughter's wedding gown, never came on my radar. Not even way back when my longed-for baby girl was placed in my arms, did I imagine for a single moment that one day, I'd see her walk down the aisle of our local church in a dress I'd made to her design.
I'd made lots of clothes for her when she was little of course. Creating pretty, unique garments for Emma was one of the joys of having a girl. I even taught myself how to 'smoke' ( beautiful stretchy embroidery) so that she could have the kind of party dresses you see in the windows of the most expensive shops. But stitching for Emma was a thing of the distant past. She was just six when she told me she didn't want any more home-made clothes, she wanted things bought from a shop like everyone else. I had no choice but to accept this. I'd learned by then that to argue with my stubborn, very determined daughter was pointless. 
I won't it deny it hurt, because it did. Luckily, I had plenty of other creative outlets and as I said in my speech on her wedding day, neither she or her brothers ever refused my cakes! 
As the years rolled on and wedding gowns became more and more elaborate, exquisite creations, costing thousands of pounds, if I'd harboured even a secret desire to make her dress, I'd have quashed it long before she phoned me from Mexico in September 2014, to tell me that, Danny, her childhood sweetheart, had proposed.
After the phone call came the text. 
'Mum, you're not to worry about paying for anything. Your creative skills are more valuable to us than money. If you could make us our wedding cake, that would be wonderful!'
I'm not sure when Emma transformed into the kind caring young woman she is today, but it was long before she sent me that message.
I promptly burst into tears.
Fast forward eighteen months to Tuesday 19th April 2016, the day we'd had marked in our diaries, to have our first tentative look around at gowns. 
I had a streaming cold, but it had taken us months to coordinate our days off, so I certainly wasn't going to cancel.
And, perhaps it was being a little under the weather that made me more receptive that day, who knows. But after the first shop, which had gorgiuos gowns made from beautiful fabric, with price tags to match, and we found ourselves trawling through wracks of the very large, 'this is what we've got, buy on the day or miss it,' 
shops in Liverpool, and I felt the quality of the 'stuff' (my grans word for fabric) and I couldn't stop myself thinking, net curtains. . . that the first, previously unthinkable thought that, perhaps, just possibly, may be, I could make her dress, began to surface.
'Needs must when the devil drives,' and 'necessity is the mother of invention,' are two sayings often repeated in my family. 'If you want it, make it yourself,' are words that run through me like pink writing in a stick of peppermint rock.
That night I sent a very tentative text to Emma. To my delight I got an instant response. 
'Mum, you've read my mind! I just didn't dare suggest it.'
And, so it began. . .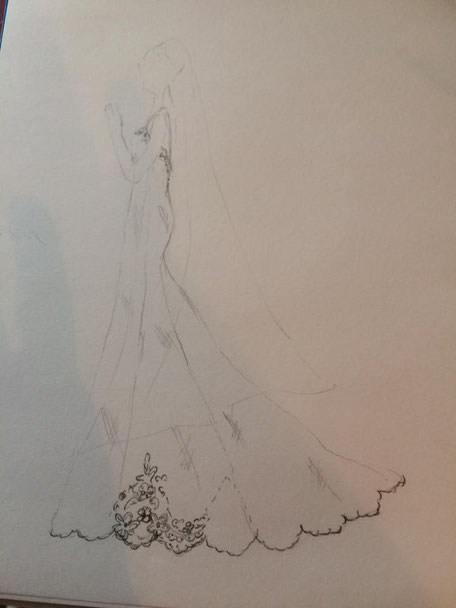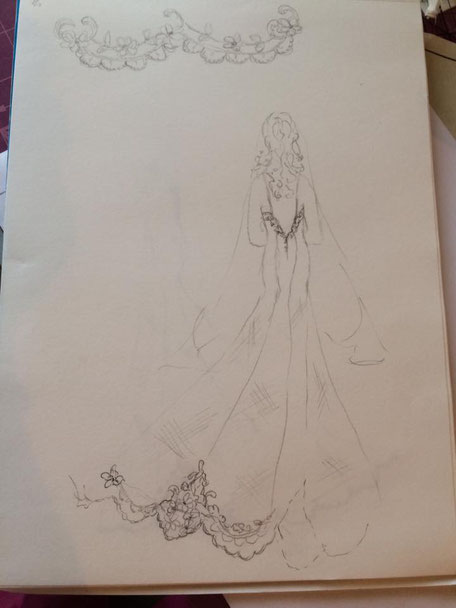 In the intervening years I'd made lots of curtains and cushion covers, but very few garments. And it had been three and half decades since I'd drafted a pattern from my own design. 
So it was with a growing sense of panic that it began to dawn on me as I flicked through the large glossy pages of a pattern book in our local fabric shop, that there are very very few bridal gowns patterns available these days and absolutely nothing remotely like the design or even the shape that I knew Emma had in mind.
What had I done? To bale out at the first hurdle was unthinkable. Miraculously, I knew exactly where I could put my hands on my pattern drafting books. If you climbed our loft ladder and dared to peek over the top you'd believe in miracles too! I'm a hoarder of the first degree. ☹
Dusting them off I'd like to say that the years rolled back, and my confidence returned. Truth be told, I'd had very little faith in my abilities to create patterns when I'd been doing my 'A' Level and City and Guilds exams in needlework back in the day. My drawings had been stiff and formal, and I'd never once been pleased with the fit of the garments I'd created. What on earth made me think then that I'd be capable of bringing my daughters ideas to life?
Well, I believe I have 'The Great British Sewing Bee' to thank in part. The week the contestants drafted their patterns from scratch, they had models to sew for. Pinning, fitting, drawing even cutting on someone else, was different altogether than trying to do it on yourself! 
Contortionist is most definitely not listed on my C.V.
I'll also say, to my dying day, that watching Vicky Gill, the head designer of 'Strictly Come Dancing', on 'It takes Two,' with, Zoe Ball on Thursday nights over the last few years, has had a massive influence on my thinking. Her seemingly casual approach and the way she talked about how the costumes evolve, is inspiring. So, with the spirit of Ms Gill, (who I'd dearly love to meet one day) on my shoulder, I ordered drafting paper on line, routed out my trusty meter stick and sharpened my pencils. 
It was August before there was anything for Emma to try on. It was the morning of the day we'd booked with Platinum Bridal Fabrics, to look at fabric, which until then we'd only gazed at on line.   If she'd hated this first attempt, and I'd told myself that I was quite prepared for this to happen, I wonder, looking back, if I'd have cancelled our appointment? 
Thankfully we'll never know.
I held my breath as Emma stepped into the massive garment I'd created from ivory curtain lining, biting my tongue to stop the worried words from spilling from my lips. Mercifully, by then, she knew enough about the process to understand that this was just the very start. In the same way I edit, change and hone my stories from the tangle of words in a first draft, from this gigantic skirt, I would pin and sculpt until I'd achieved the shape she wanted for her dream dress.
So far so good. 
Elated, we set off for Darwen and I will always be grateful for the warm welcome we received from the staff there, who I'm sure are more used to dealing with professional designers and large fashion houses, than brides and their anxious, over ambitious mothers. Bless them, they didn't rush us, and their advice proved invaluable. We left clutching several exquisite samples in a white A4 envelope and celebrated with a slap-up lunch at the Burger King at the end of the M65.
That afternoon, wearing my fleecy dressing gown between fittings, Emma watched patiently as I stitched between the pins and began cutting away great chunks of fabric. By the end of the afternoon, having made great strides, Emma said the words said the words that filled me with joy and sustained me through the months to come.
'Mum, I love it!' and stroking the fabric she added, 'You know, I'd wear this. . . .I honestly love it!'
If she felt like that clothed in curtain lining, surely made in the fabric we'd seen and held that day, I couldn't fail!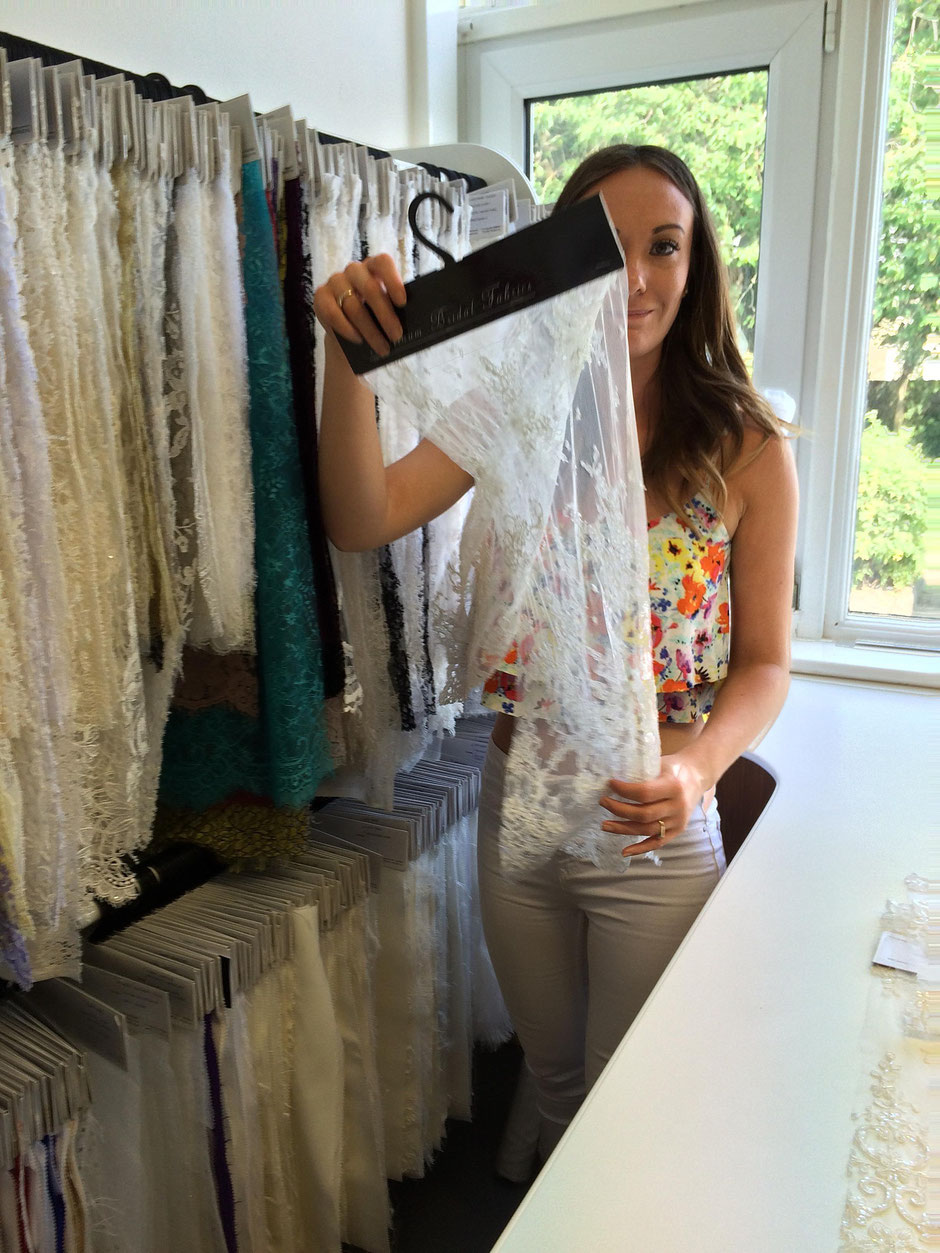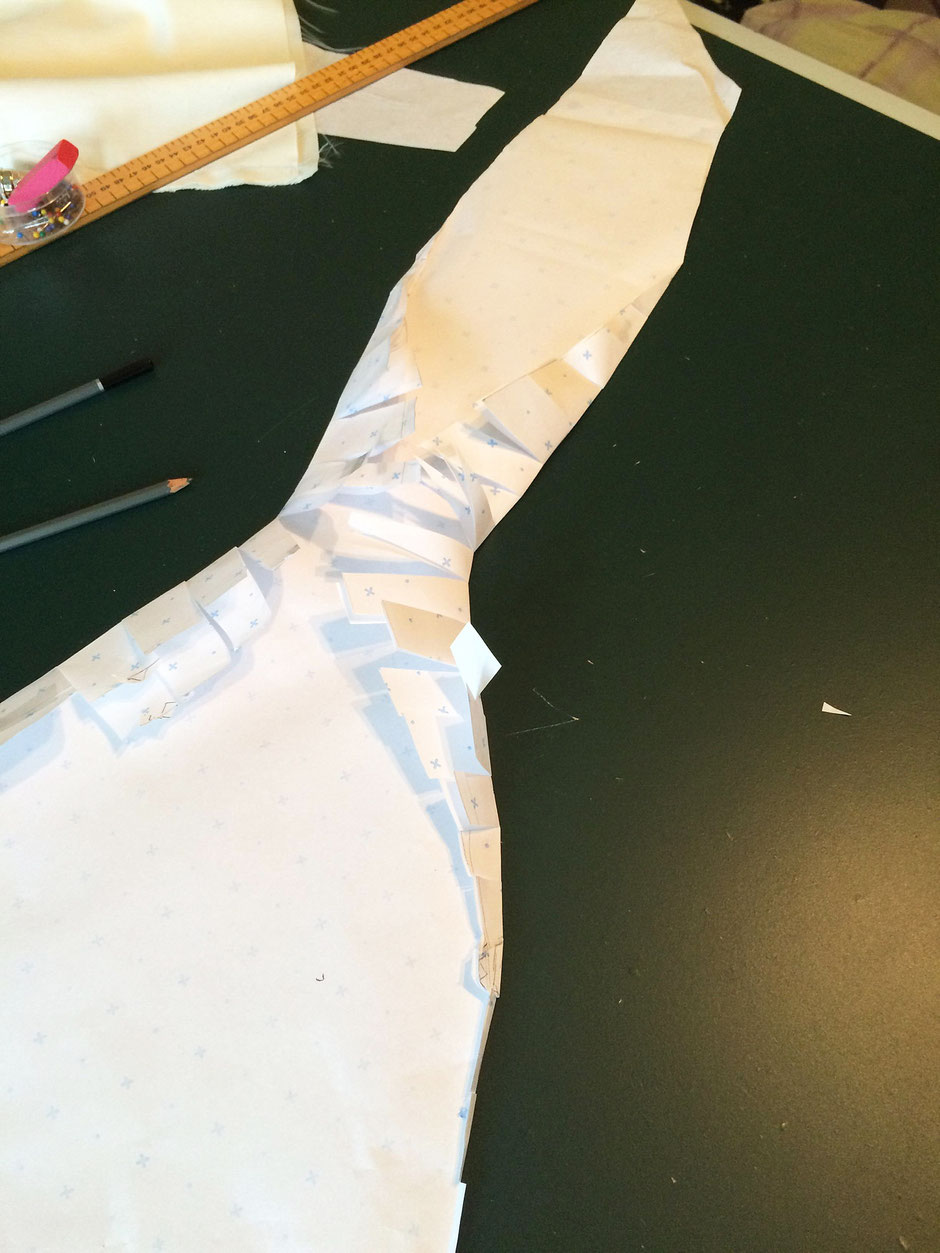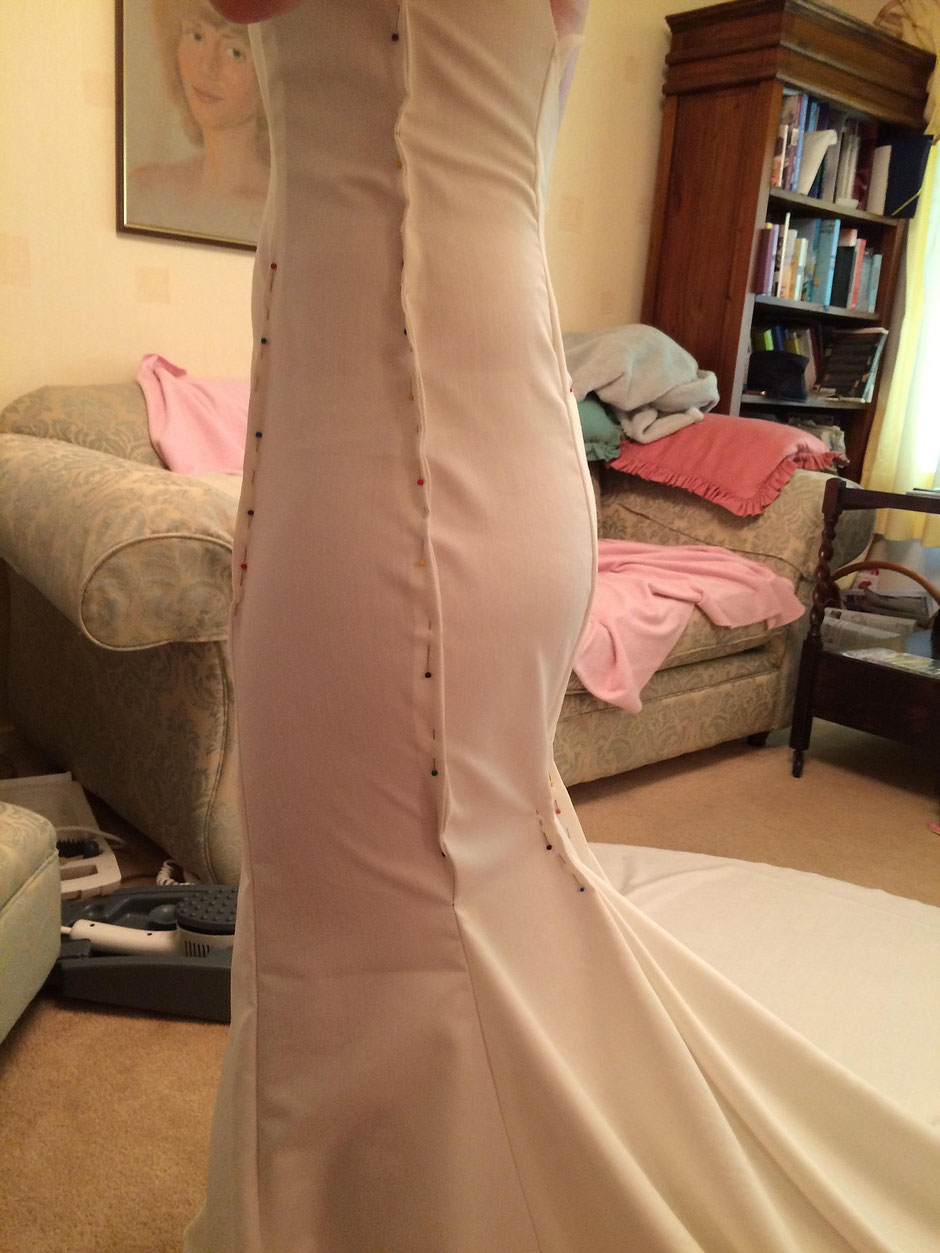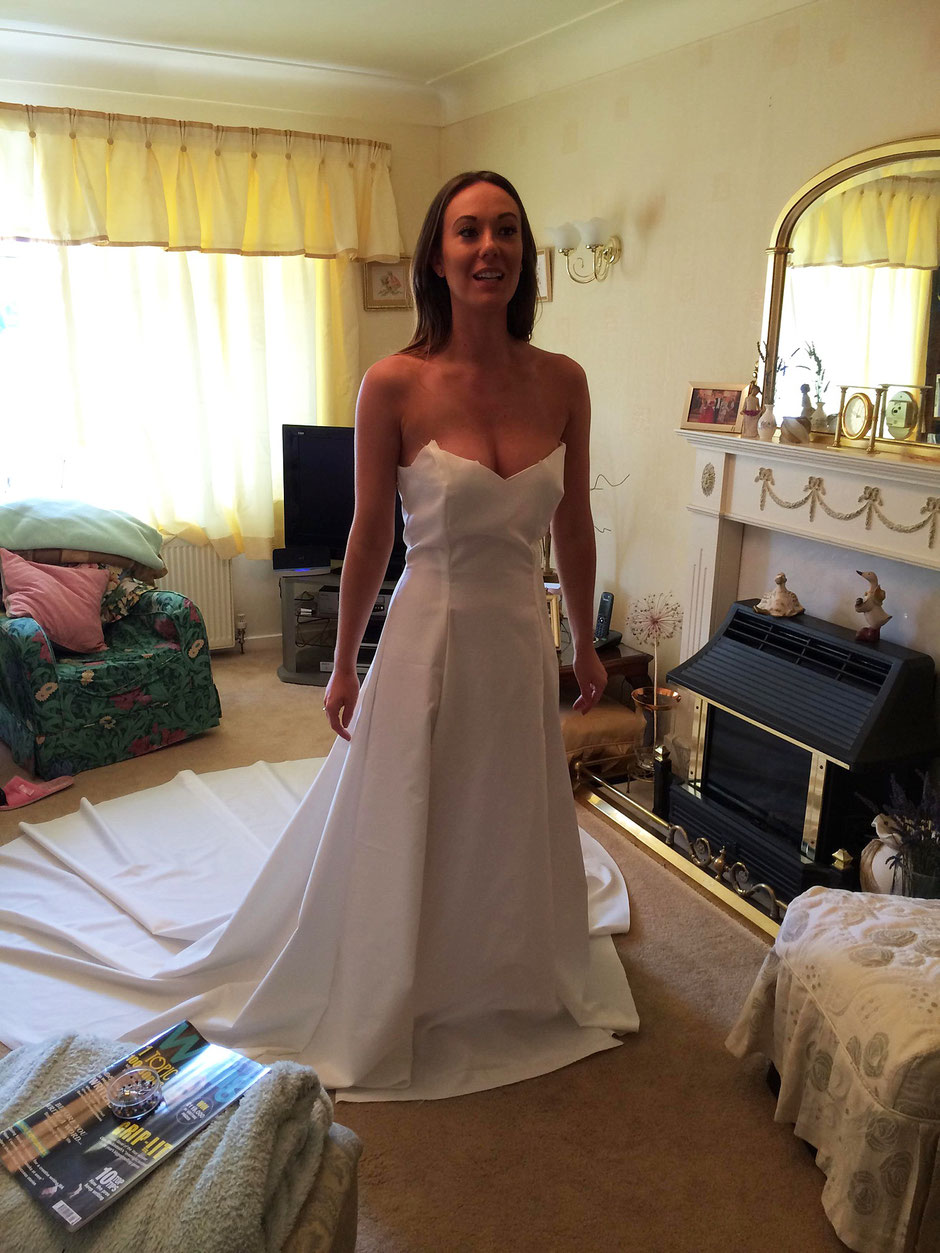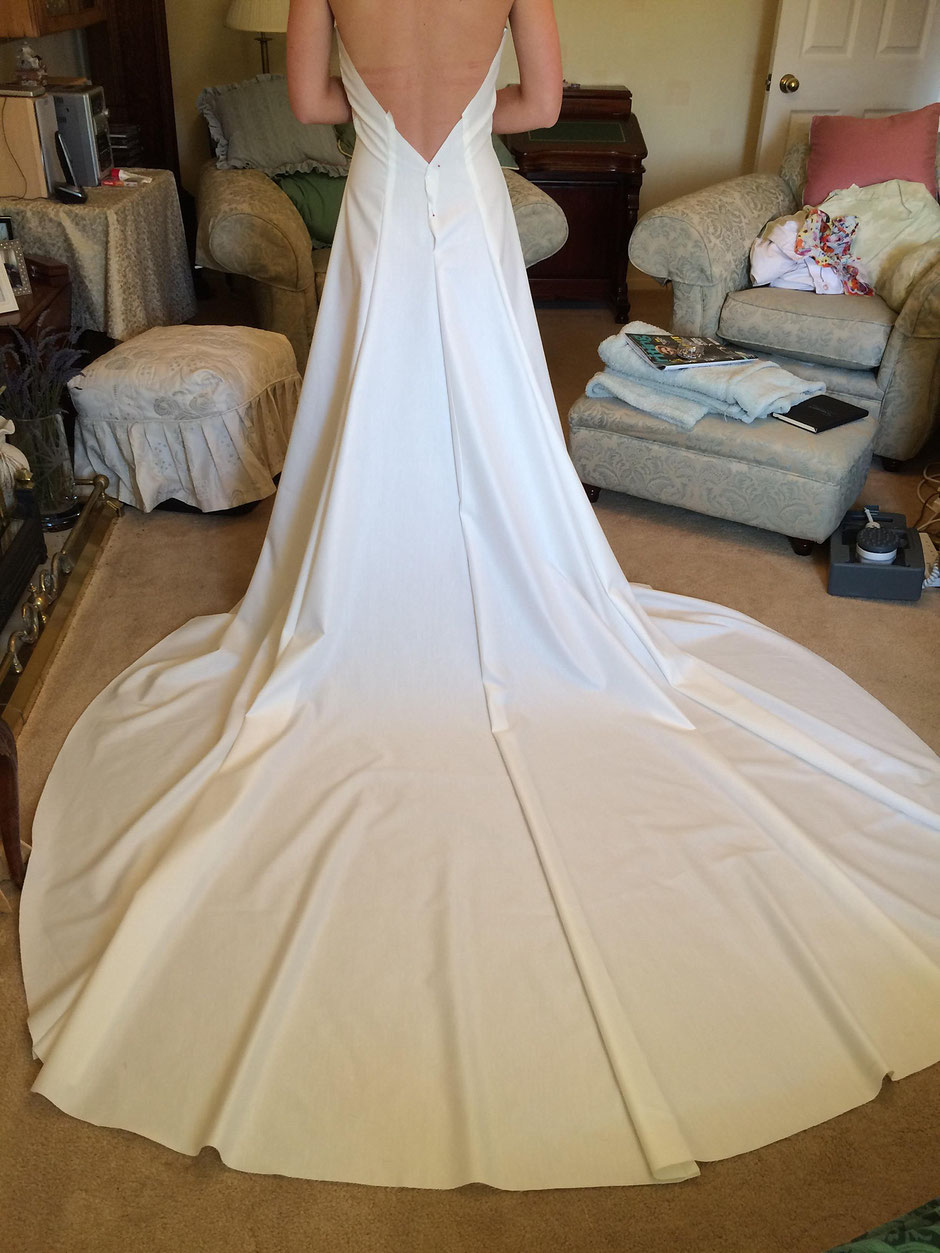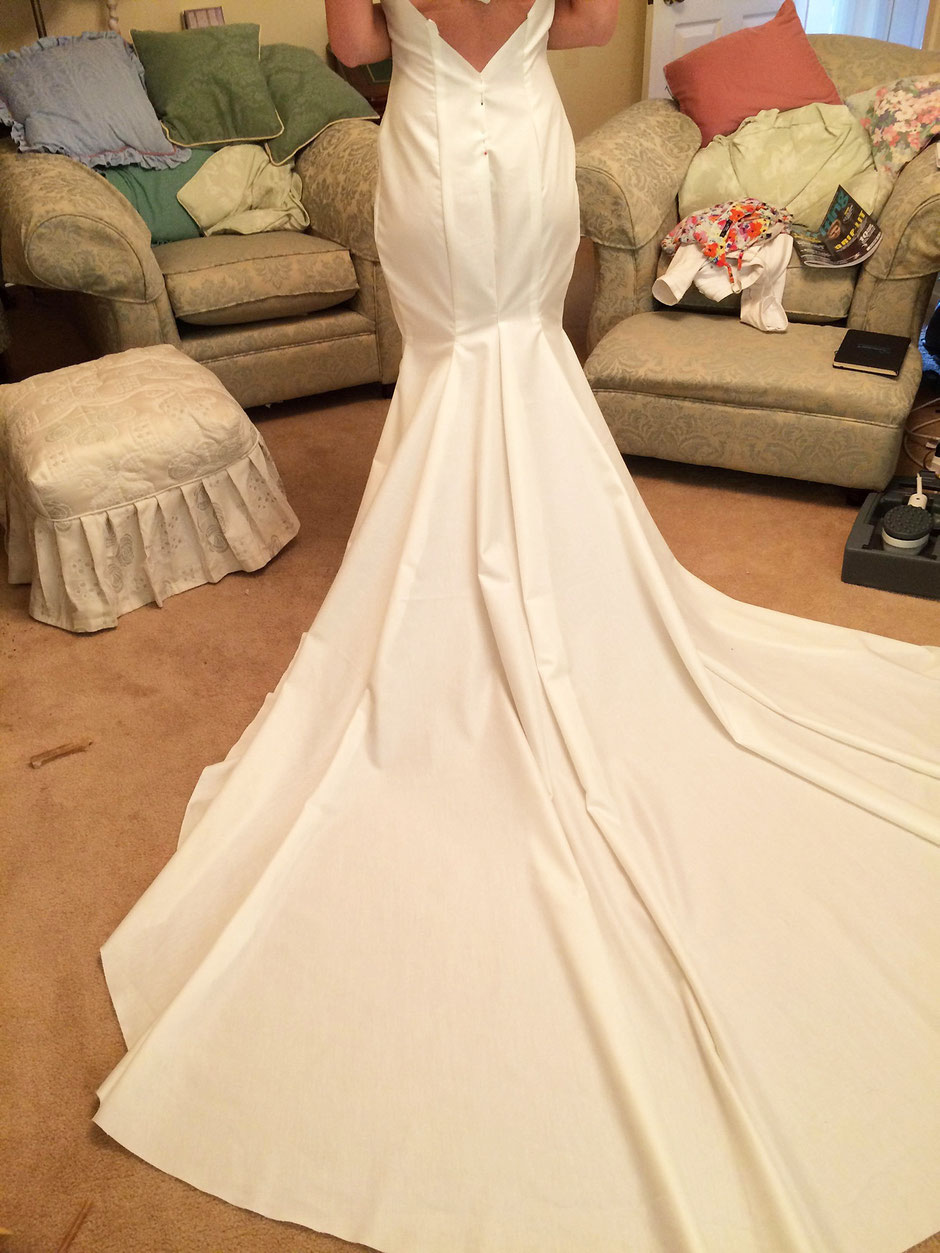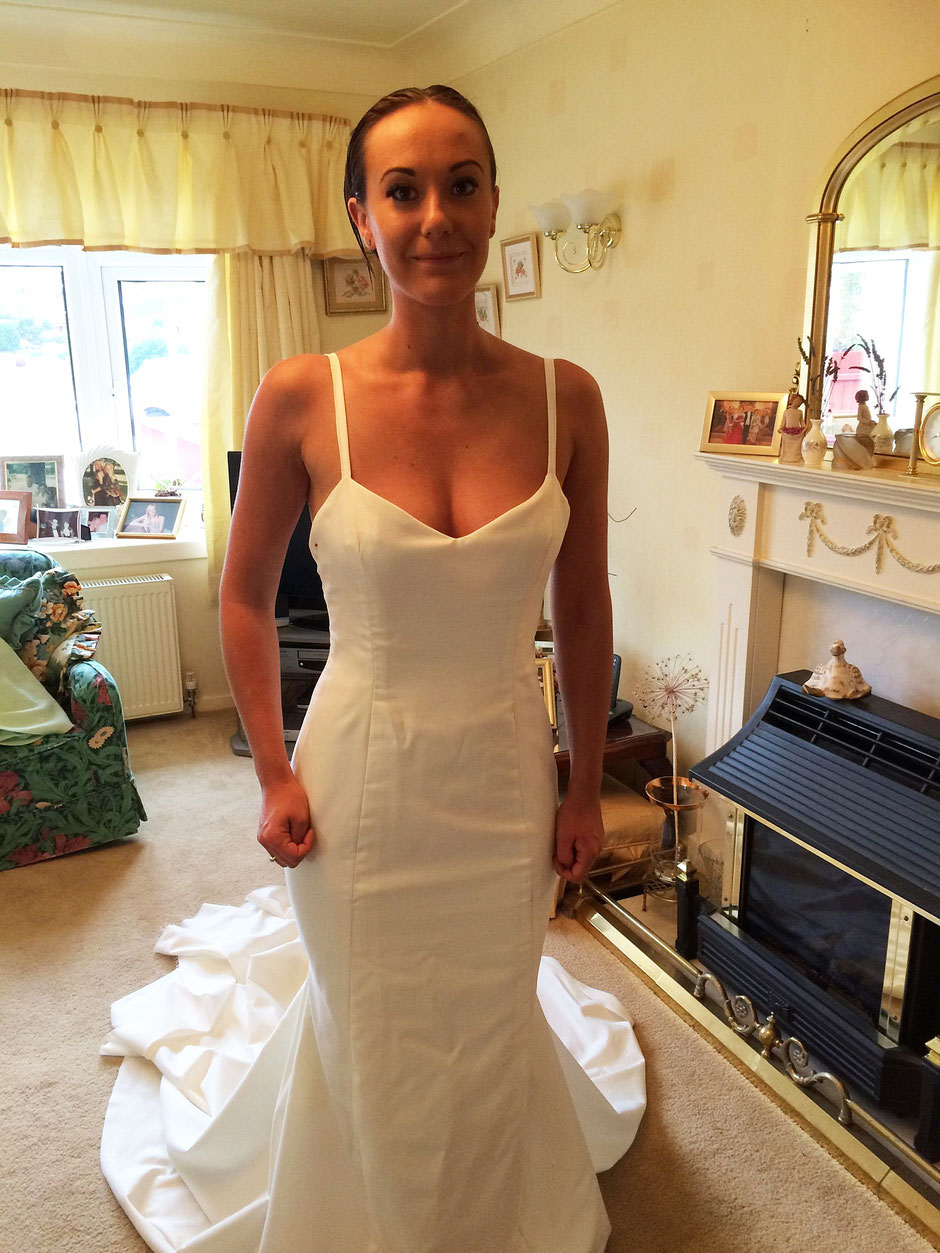 Heather Vivien Allison
(Bespoke Bridal Creations)
bespoke wedding dress story | from mother to daughter