I'm such a sentimental old (ish) fool and when it comes to weddings, especially the bonds I get to witness on a wedding day my heart strings are most definitely tugged.
This story nearly pulls said heart, right out of my mouth... Heather of Bespoke Bridal Creations is the lady I want to be... She is armed and dangerous with a glue gun (and copious amounts of other craft materials). Every fibre of her make up is creative... 
When I was a kid my Mum nicknamed me 'Half a Job' Because I would always get a super exciting idea... start off at a million miles an hour then just run out of steam and lose interest... Nothing like Heather... She had a super exciting idea and saw it through right to the end... Here she starts to tell us a little about the journey she went on with her daughter Emma...
...I can honestly say, that making my daughter's wedding gown, never came on my radar. Not even way back when my longed-for baby girl was placed in my arms, did I imagine for a single moment that one day, I'd see her walk down the aisle of our local church in a dress I'd made to her design.
I'd made lots of clothes for her when she was little of course. Creating pretty, unique garments for Emma was one of the joys of having a girl. I even taught myself how to 'smoke' ( beautiful stretchy embroidery) so that she could have the kind of party dresses you see in the windows of the most expensive shops. But stitching for Emma was a thing of the distant past. She was just six when she told me she didn't want any more home-made clothes, she wanted things bought from a shop like everyone else. I had no choice but to accept this. I'd learned by then that to argue with my stubborn, very determined daughter was pointless. 
I won't it deny it hurt, because it did. Luckily, I had plenty of other creative outlets and as I said in my speech on her wedding day, neither she or her brothers ever refused my cakes! 
As the years rolled on and wedding gowns became more and more elaborate, exquisite creations, costing thousands of pounds, if I'd harboured even a secret desire to make her dress, I'd have quashed it long before she phoned me from Mexico in September 2014, to tell me that, Danny, her childhood sweetheart, had proposed.
After the phone call came the text. 
'Mum, you're not to worry about paying for anything. Your creative skills are more valuable to us than money. If you could make us our wedding cake, that would be wonderful!'
I'm not sure when Emma transformed into the kind caring young woman she is today, but it was long before she sent me that message.
I promptly burst into tears.
Fast forward eighteen months to Tuesday 19th April 2016, the day we'd had marked in our diaries, to have our first tentative look around at gowns. 
I had a streaming cold, but it had taken us months to coordinate our days off, so I certainly wasn't going to cancel.
And, perhaps it was being a little under the weather that made me more receptive that day, who knows. But after the first shop, which had gorgiuos gowns made from beautiful fabric, with price tags to match, and we found ourselves trawling through wracks of the very large, 'this is what we've got, buy on the day or miss it,' 
shops in Liverpool, and I felt the quality of the 'stuff' (my grans word for fabric) and I couldn't stop myself thinking, net curtains. . . that the first, previously unthinkable thought that, perhaps, just possibly, may be, I could make her dress, began to surface.
'Needs must when the devil drives,' and 'necessity is the mother of invention,' are two sayings often repeated in my family. 'If you want it, make it yourself,' are words that run through me like pink writing in a stick of peppermint rock.
That night I sent a very tentative text to Emma. To my delight I got an instant response. 
'Mum, you've read my mind! I just didn't dare suggest it.'
And, so it began. . .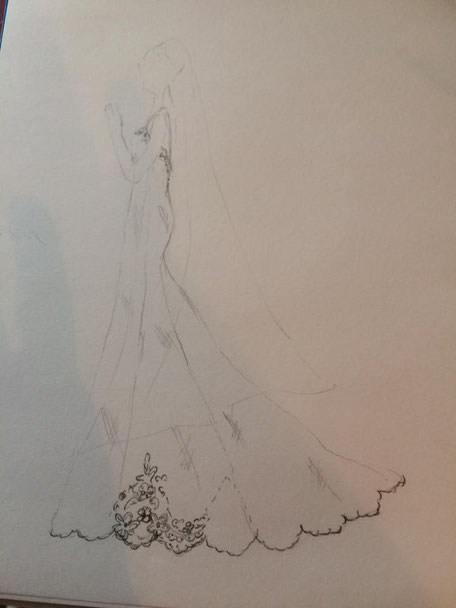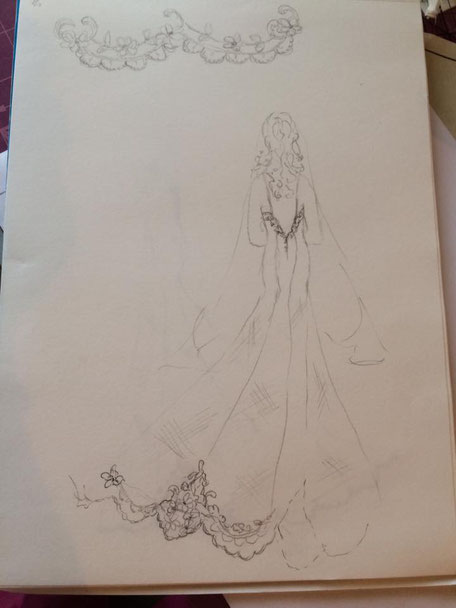 Heather Vivien Allison
(Bespoke Bridal Creations)
bespoke wedding dress story | from mother to daughter